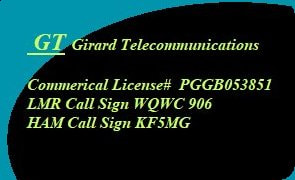 Girard Telecommunications



​A Veteran owned business
---
We work with MotoTRBO(tm) Products such as the XPR and SLR series of Motorola products
NEW: Now available 5 Motorola APX 7000 P25 Series Radios.
Please use contact page for inquiries
NEW: Awarded FCC License for a P25 and NFM Repeater as a Commercial Carrier.
NEW: Now able to program APX P25 Series Radios!
NEW: Now able order OEM Motorola parts for XPR and APX series radios. Use Contact Form for inquiries and quotes for available parts.
Our Associate Membership with Forest Industries Telecommunications allows us to ensure proper FCC licensing for your business or organization.
fcclicense.org/fit/links/
We are now carrying X-Blue Telephone products and services
as an Affiliate Member with X-Blue.
Please visit our Two Way Radio Solutions and Business Telephone solutions for your business or organization.
We have many years of technology experience and I am confident that we can find your solution.